Arahne supports open source
Details

Created: 10 March 2014
Arahne started development of textile CAD on UnixWare in 1992, then in 1997 we ported the software to Linux and in 2013 to Mac OS X.
We have always used open source libraries in parts of our software, and we have also released ArahPaint as open source.
Some libraries, which we use in ArahWeave and ArahDrape were no longer developed, we have hired and paid a programmer to add the features we needed, and released the improved versions as open source.
http://sourceforge.net/projects/xmhtml
http://sourceforge.net/projects/microline
In this way we give back to the community, whose work we have enjoyed for free.
The new version of Arahne software, which uses those libraries, will be released this week.
We were able to solve some old open issues in internationalization (display and use of national characters), and Arahne will be able to satisfy the needs of its worldwide users in finest details.
Arahne software ported to Mac OS X
Details

Created: 17 January 2014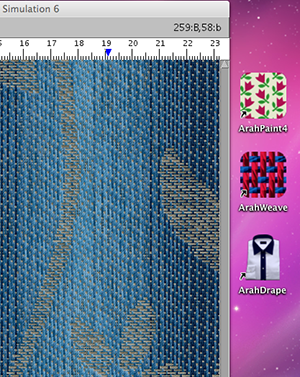 After almost a decade of pleas from our customers, we are both pleased and proud to announce, that Arahne textile design software is available for Mac OS X. We have had it running internally from August 2013, and we gradually rolled it out to the interested customers. In the mean time, we fixed the bugs and simplified the installation process.
ArahWeave, ArahDrape and ArahPaint4 look and feel just the same as their Linux versions, same shortcuts, same functionality. They are using XQuartz as the base for display of the user interface. So Mac purists will not be totally happy, but this is the best we can do. ArahPaint5 is written in a different user interface toolkit, and this allowed us to make a pure Mac application, which follows the Mac interface guidelines: Menu on top, ⌘ key instead of Control, standard Mac .dmg based installation.
Software will only work on Intel based Mac computers. So any Mac from 2006 onwards will be OK.
If you are a Mac user, please follow the installation instructions for full Arahne software demo from here.
If you are only interested in textile oriented paint program ArahPaint5, please get it from here. ArahPaint5 is free, can load cards in most jacquard formats, and save them as PNG or TIFF.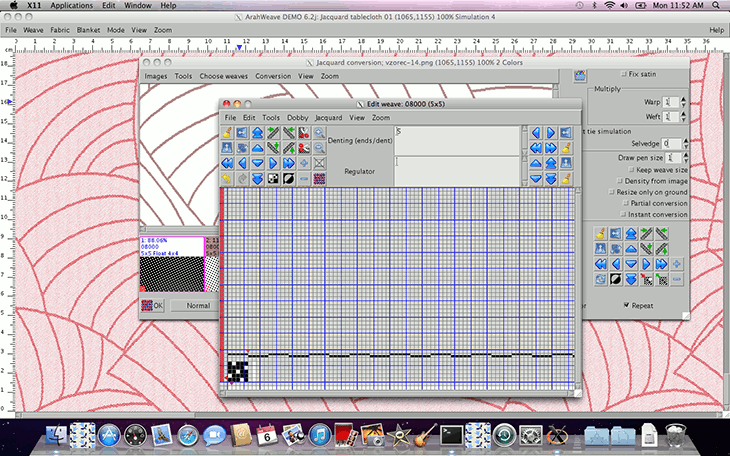 3D for the 3D challenged
Details

Created: 05 January 2014
If you are like most people, you live in a 3D world, know your way around, you walk, jump, maybe even drive a car, but confronted with a 3D CAD, you are totally lost. Tons of windows and options with cryptic names. How do you create an object? Place the lights and camera? Apply a texture? Render 3D scene or make an animation?

As a textile designer, you know your job. You have designed a beautiful fabric. Now you only wish to look at it on a finished product, in real size, view it from different angles.

Now you can. Not only that, you can even show it to your customers anywhere in the world. But how, you may ask in dismay? Simply by using a web browser, click on the link below to see the shirt with different fabrics.

http://www.arahne.eu/3D/AW3Dshirt.html

Click on fabrics in the upper right to apply a different fabric. Use wheel mouse to zoom in and out. Click and drag with left mouse button to rotate. Click and drag with right mouse button to move. Use the control on the top to change button or yarn stitch color.

This will work if your browser has WebGL enabled. If you are using Firefox or Chrome, it probably already works.

On Apple Safari, you need to enable it using the following steps:

Open the Safari menu and select Preferences.
Then, click the Advanced tab in the Preferences window.
Then, at the bottom of the window, check the Show Develop menu in menu bar checkbox.
Then, open the Develop menu in the menu bar and select Enable WebGL.

If you use Internet Explorer on Windows, you need version 11.

That is all nice and good, but how can you do it? Use your own fabrics? With ArahWeave as your weaving CAD, it is really easy. Simply select File > View on 3D model, choose one of the prepared models, and click OK. Check how this works in the following video.

Now we wish to show you the other models, from the simplest to the most complex. Please be patient, some objects and textures occupy several megabytes. It may take some time for them to download, if your Internet connection is slow.

On curtains, we could also use transparent textures, but since we can't use transparency in JPEG files, we did not show it in this web demo. On local computer, we can use PNG format for texture, transparency works, but files are just too big for web presentation.

Shirt on hanger (really slow, sorry...):

All fabric simulations are created by ArahWeave, based on actual production data (not toying around in Photoshop and making impossible fabrics).

Shirting fabrics by Paganini, Milano

Upholstery fabrics by Elledi, Biella

Tie fabrics by Svilanit, Kamnik

Curtains by Danzo, Valdagno
Arahne partners with Pattern Design
Details

Created: 05 January 2014
Arahne has partnered with PatternDesigns.com, to help weavers access a wide range of new designs at an affordable cost. How is this different from simply going to one of the well known stock image web sites, and buying it from there?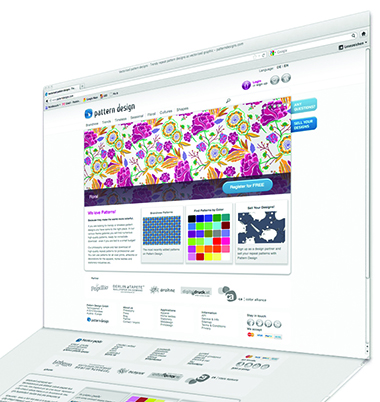 Pattern Design offers a monthly subscription for weavers, under very special terms. A weaver can download over 3500 designs as PNG images in 600x600 resolution, already in repeat and with reduced number of colors. So they are immediately usable in a jacquard CAD system: assign a weave to each color, and you are ready to weave.
Any design can be used for free during sampling period. It no longer costs a fortune to create a vast collection of fresh new designs. Once a weaver has the order for a particular design, she needs to actually buy the design. With the purchase of the design, the weaver also gets the image in 2400x2400 pixel resolution, and a vector image in SVG format.
All designs are non-exclusive and include unlimited production license. Vector images can be imported in ArahPaint5, and scaled to any resolution without any quality loss, depending on the weaver's jacquard width. ArahPaint5 is a free jacquard drawing program developed by Arahne, and it can be freely downloaded It is available for Linux, Windows and Mac OSX operating systems.
To learn more about this initiative, please check this document in English or in Italian, or simply signup here http://www.patterndesigns.com/ArahWeave/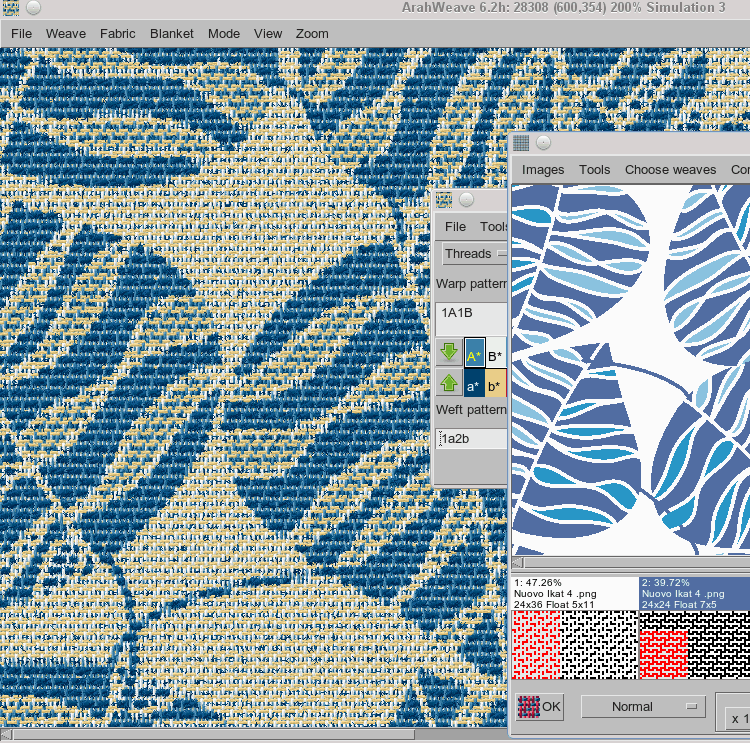 TC-2 jacquard lands in Bratislava
Details

Created: 30 December 2013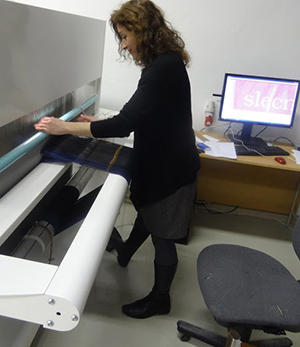 In second half of December 2013, we have installed 5 Arahne CAD systems in Bratislava in VŠVU Academy of Fine Arts and Design. ArahWeave will be used to make designs for Digital Weaving TC-2 electronic jacquard. Despite being a hand-loom, TC-2 should not be underestimated, since in VŠVU's configuration, it raises an impressive 3960 hooks. So its pattern capabilities well exceed average industrial loom.
The loom design is also interesting, since it does not have a harness, therefore it does not require high ceiling. On the picture, you see the small test run of a narrow warp with only 1320 warp ends. This will be replaced with the full width in the future. VŠVU is the first installation of Arahne CAD in Slovakia.
Slovakia and Slovenia would be neighbors, if it weren't for the Austria, which managed to squeeze between the two Slavic nations about thousand years ago ;-) Luckily, highways are good, and it takes just 4 hours by car from Ljubljana to Bratislava. It was a pleasure to teach lovely ladies, and to be able to use Slavic words, when we ran out of English.