E-business 2017-2018: "Arahne Digital Interactive Multilingual Design" project
Details
In the period from February to October 2018 we are implementing the project "Arahne Digital Interactive Multilingual Design". The investment is co-financed by the Republic of Slovenia and the European Union from the European Regional Development Fund in the amount of 70%.
The »E-BUSINESS 2017-2018« operation covers the following measures:
1. Digitization of performances at fairs
2. Websites for foreign markets
3. Online shops
4. Product-sales video
5. Enhancing competence-training

The goal of the operation is to build multilingual responsive web site and set up e-commerce, which will help facilitate entry and expansion to foreign markets and increase international competitiveness in the segment of CAD/CAM software solutions for woven fabric design and weaving.

EKP website in Slovenia: http://www.eu-skladi.si/
NEW ArahView 3D is ready to use!
Details
After several month of work we proudly present ArahView 3D.
ArahView 3D is Arahne's new application which allows you to apply designed fabric on the 3D model immediately. We offer a large variety of 3D models: from upholstery, bed linen, bags, shirts, male and female models in different poses, ties, wrinkled fabrics, fabric sample models and much more.
Click here and start playing with it now!
Choose a model and apply the fabrics that are displayed by icons below. Some of the models consist of different parts, which allows you to apply different fabrics on different parts of the model. Feel free to rotate, move and zoom the model in any direction you want. We support front an back view of the fabric as well as transparent fabrics.
ArahView3D is integrated with ArahWeave CAD. That means you can save the fabrics designed in ArahWeave directly into ArahView3D and apply them on the 3D model immediately. For some extra fee our 3D artist can aslo prepare a 3D model according to your choice.
ArahView 3D works on any Browser and even on tablets and high quality smartphones. The system handles large volumes of data and stays responsive - we have almost 500 high quality fabric textures (over 2.5 GB of data), and it still works fast.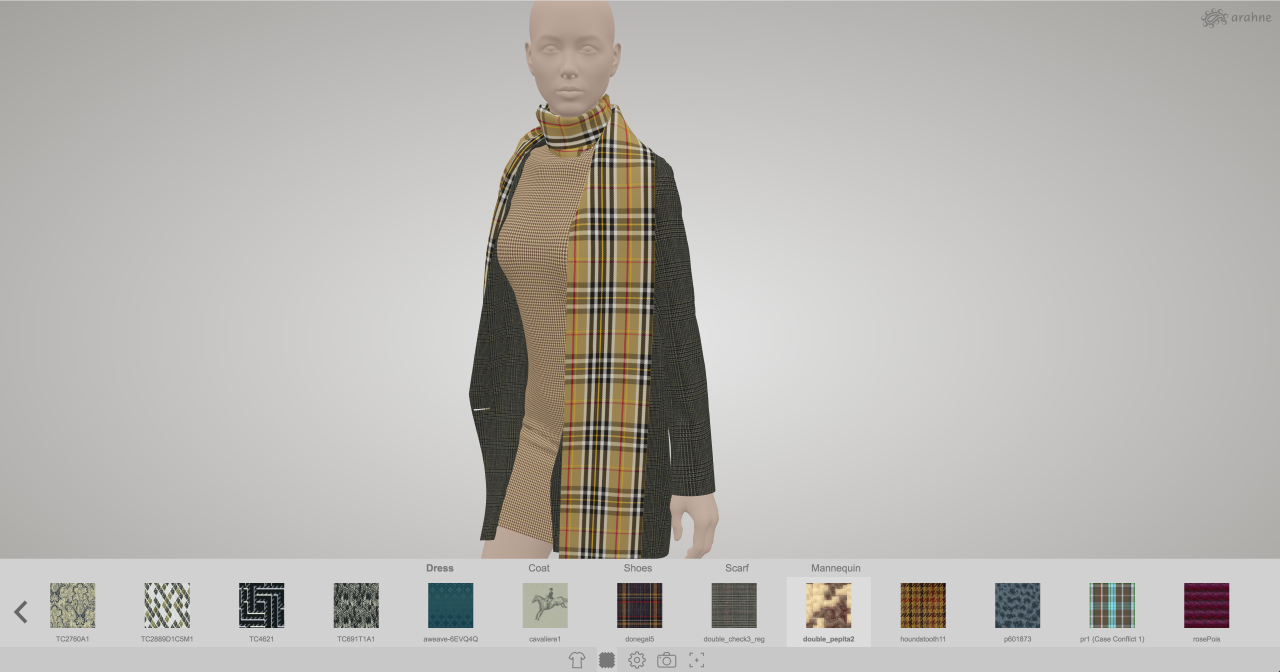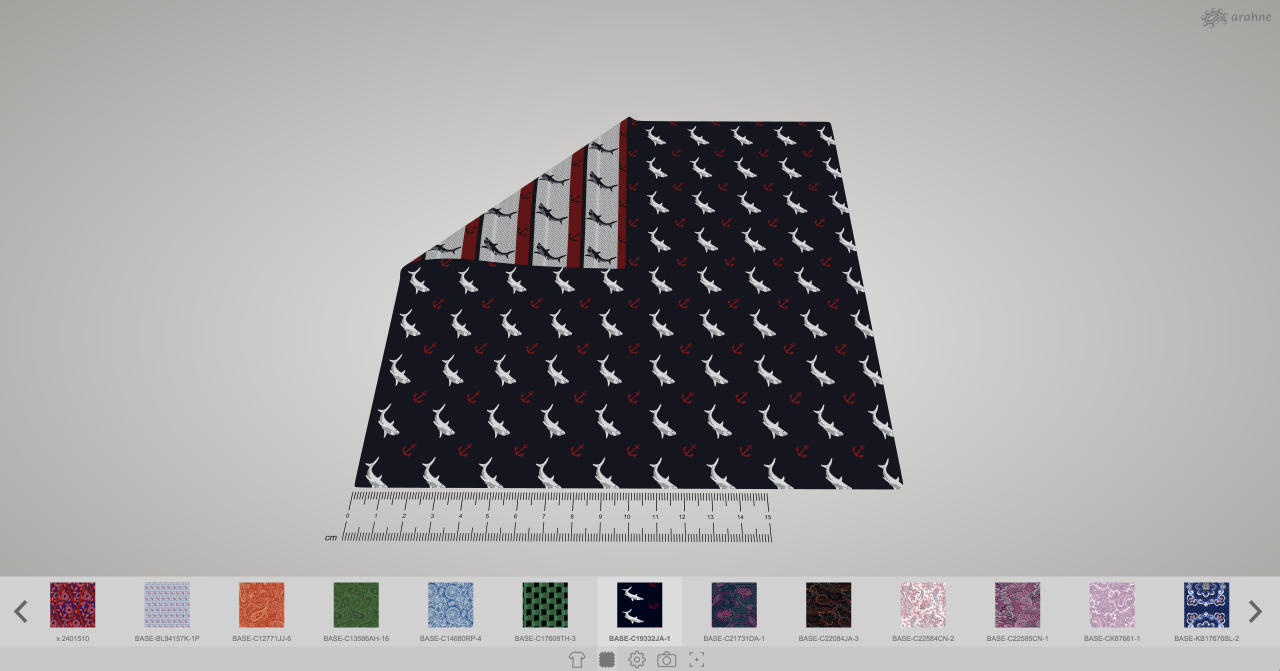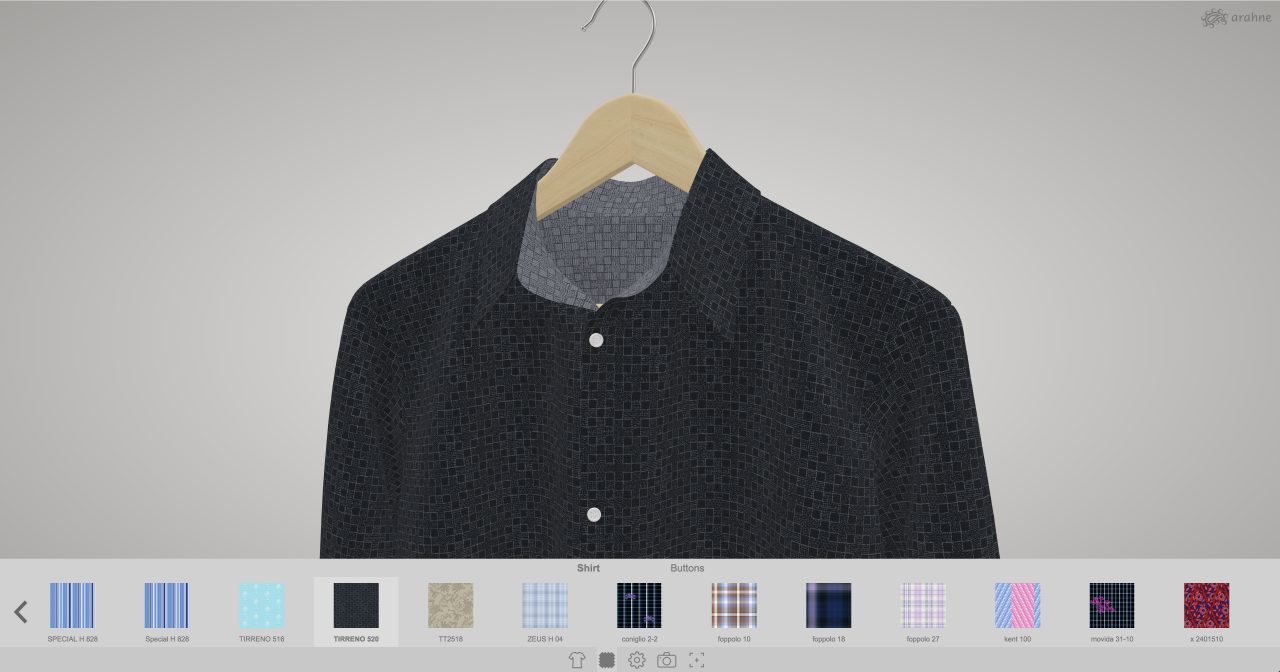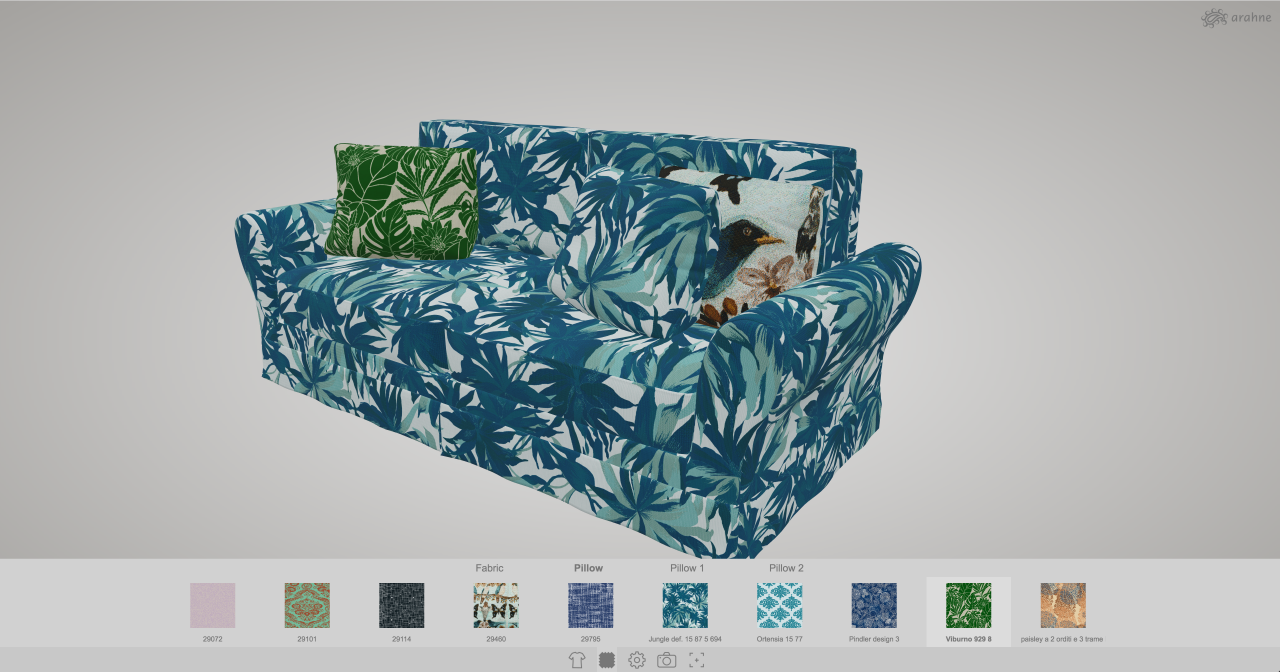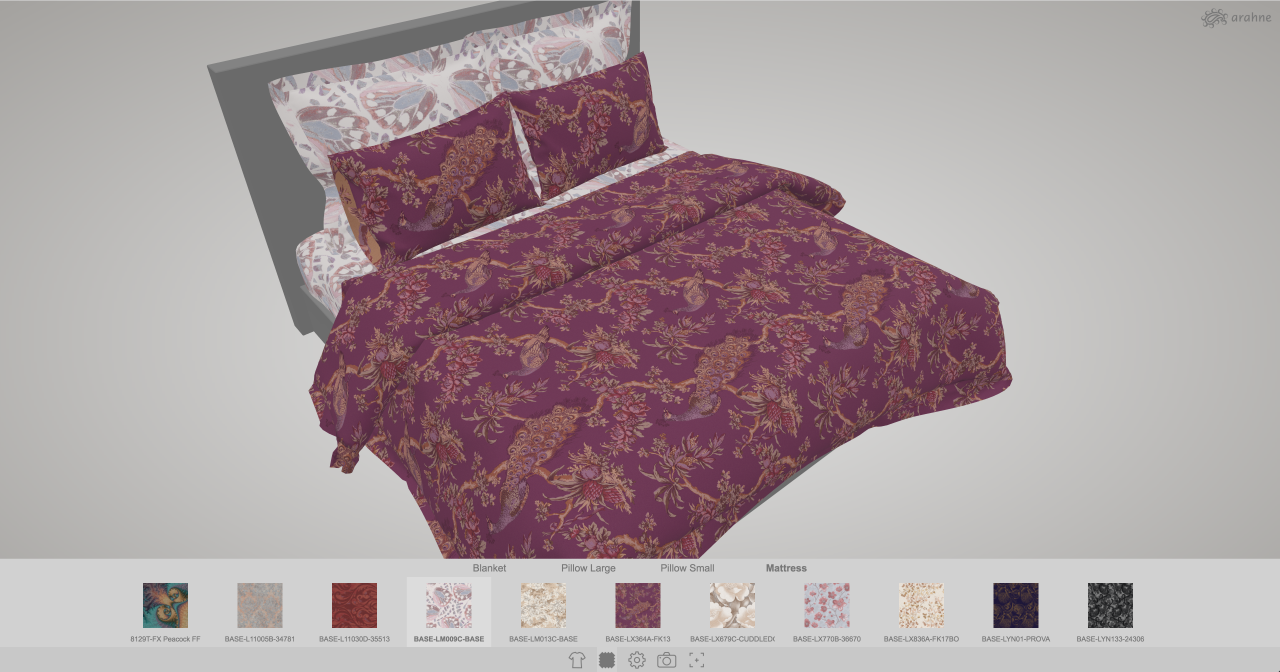 The fabrics used in the configurator are just a small sample of what our customers do. Please note that designs belong to major brands, and you are not allowed to copy them. We only use them to demonstrate ArahView 3D.
Curtains: ????? ???, Italy
Accessories: ?&? ?????? ??, Finland
Tablecloths: ???? ???, Italy
Clothing: ????????? ?? ?????????; ????????????; ????????? ?.??? ?????,Italy
Upholstery: ??????? ?????? ???; ??????? ???, Italy
Shirting: ???????? ???, Italy
Ties: ????? ????????????? ???, Italy/USA
A great article about Constructing Compound Weave Structures in ArahWeave
Details
Patricia Stewart, member of Jacquard Study Group, who is also a user of ArahWeave, wrote an exceptional article equipped with rich visual material, explaining the design of lotus pillow fabric in ArahWeave, using Decomposed View for creating double weaves and Jacquard Conversion window for generating the fabric simulation. The article was published in the Complex Weavers Journal: https://www.complex-weavers.org/member-resources/journal-index/.
With the author's kind permission, you can read the whole article here.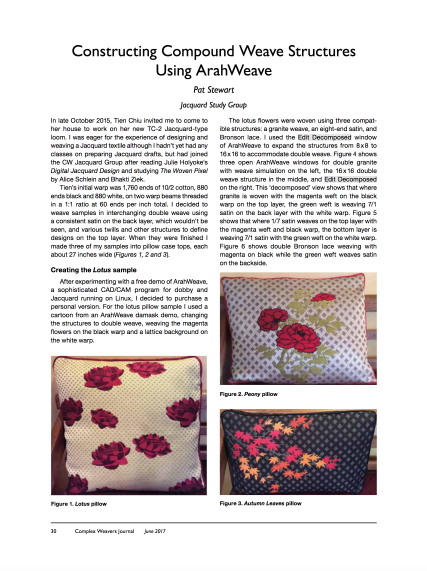 Arahne awarded with Golden AAA rating in 2018
Details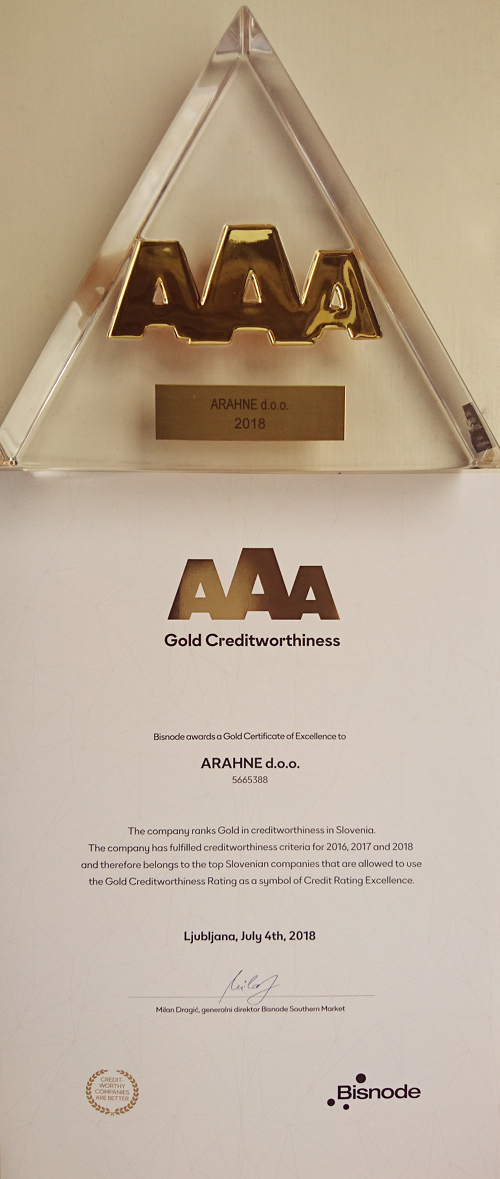 We are proud to announce that Arahne was awarded GOLDEN AAA Highest Creditworthiness Certificate rating by Bisnode, a Swedish credit rating company.
The golden AAA credit rating stands for an above average value for companies that show an outstanding performance for three consecutive years. The valuation is based on the annual financial statements and other indicators. According to the forecast, we are among the safest and most successful companies in the next twelve months.
Arahne is a stable and profitable company with 25 years of experience. Our results guarantee, that we will be a reliable partner also in the future.
Arahne software updates 2018
Details
What is NEW in Arahne software?

See the new functions in ArahWeave, ArahPaint and ArahDrape and learn how to use them in the relase notes.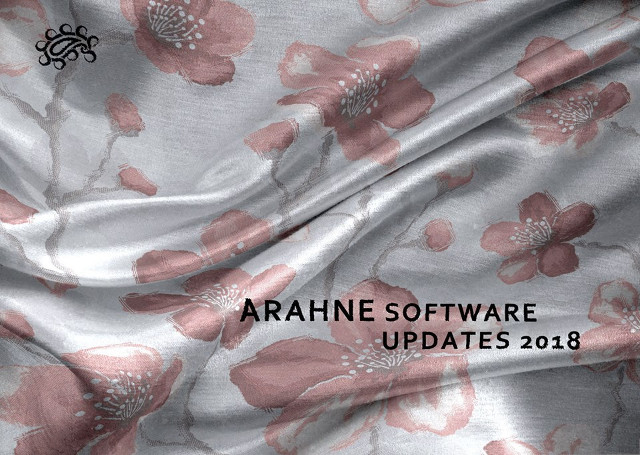 If you haven't received the latest version yet (ArahWeave 8.3d), contact the office and ask for the latest update.