Surprise in Sardinia
Details
Arahne has a new customer in the beautiful island of Sardinia.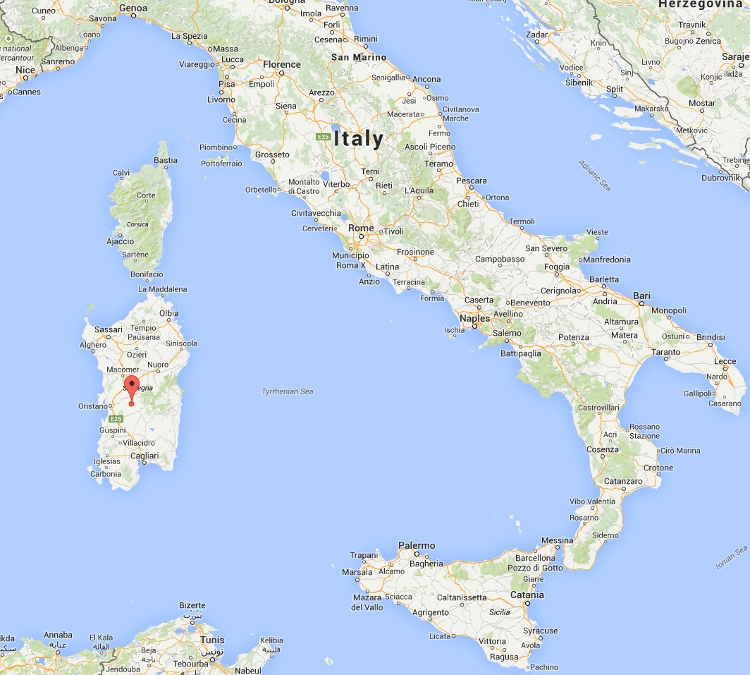 We work a lot in Italy, but almost all the customers are located in strong textile areas of Biella, Como or Prato. We have never imagined that Italy hides gems like Samugheo, a small village almost in the center of Sardinia, where ancient craft of handweaving is still alive.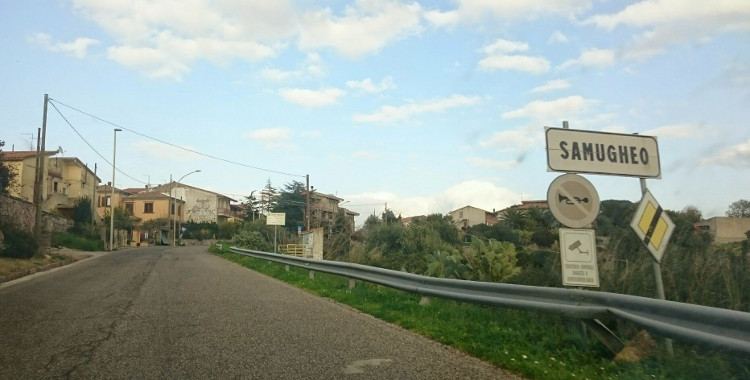 You can actually walk the streets of the village and hear the noise of the loom beater coming from various houses. They are calling their small weaving mills with an original name - "laboratorio". Nothing to do with medicine or high tech, it is is a workshop, from Latin laborare.

Actually the "laboratorio" of Mariantonia Urru now contains some high tech, a completely new electronic jacquard loom. But more about that later. We must first introduce signora Mariantonia, who created the company, based mostly on traditional handweaving. You can see her on this picture making an "pibiones" rug on a Nebiolo - Schönherr shutle loom. This is a traditional technique where the pile is created by wrapping a weft around a needle, and then removing the needle. It takes about 15 minutes for a single weft to be wrapped in this way, depending on the density. This beautiful technique allows a weaver to make a pile or not, and to make it in different weft colors.
These are the "pibiones", while still on the loom: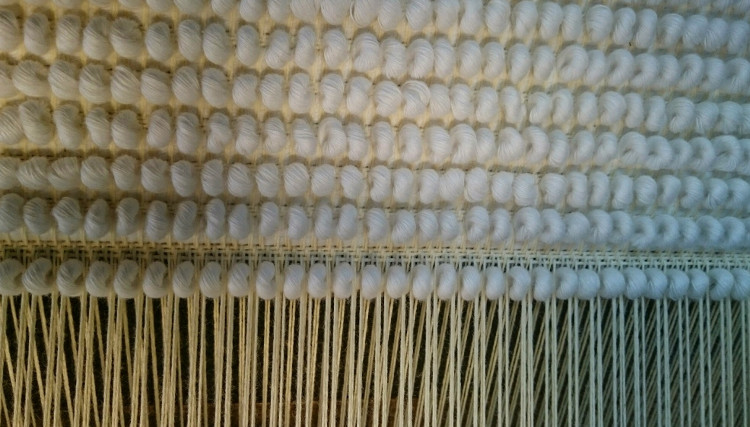 You make them like this: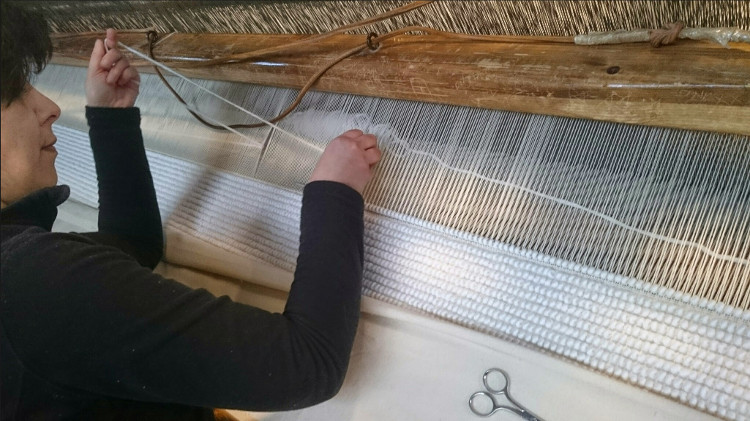 And the final product looks like this: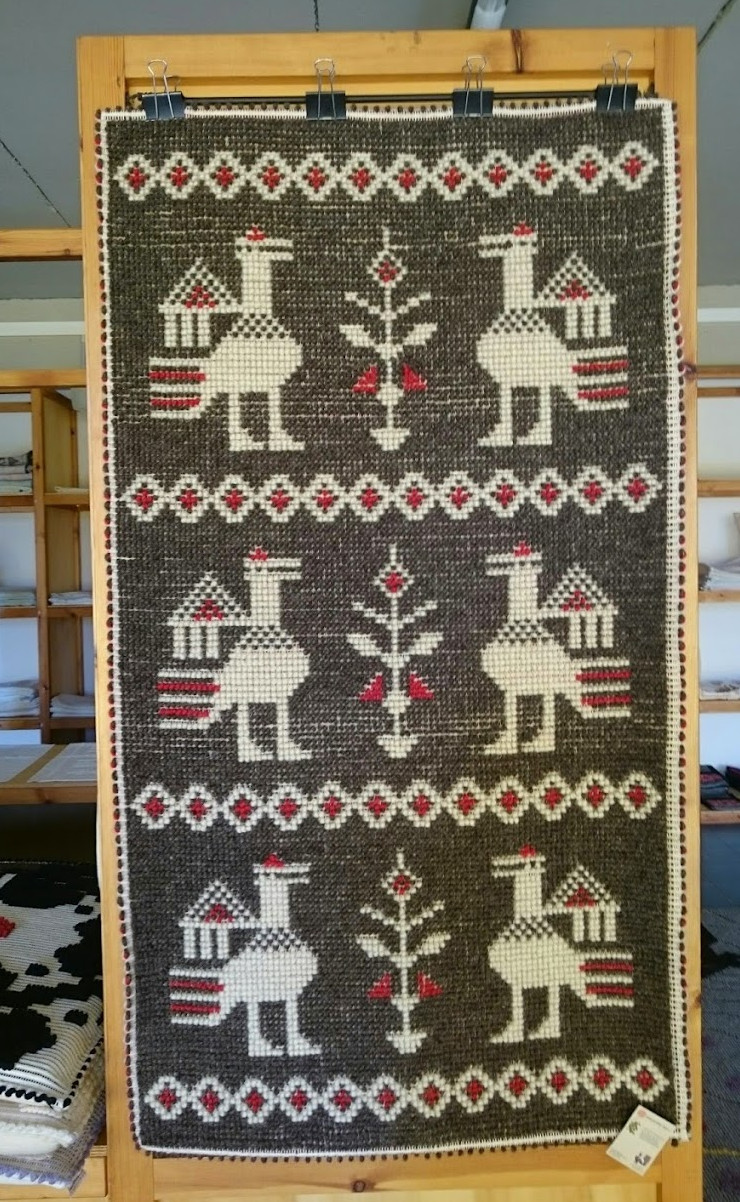 Sons of signora Mariantonia (Gian Bachisio and Giuseppe are in front of the loom) have decided to modernize the weaving part of the "laboratorio" with a new electronic jacquard, which allows them to quickly change the design. We have helped them reinterpret some of their old designs with the new technology.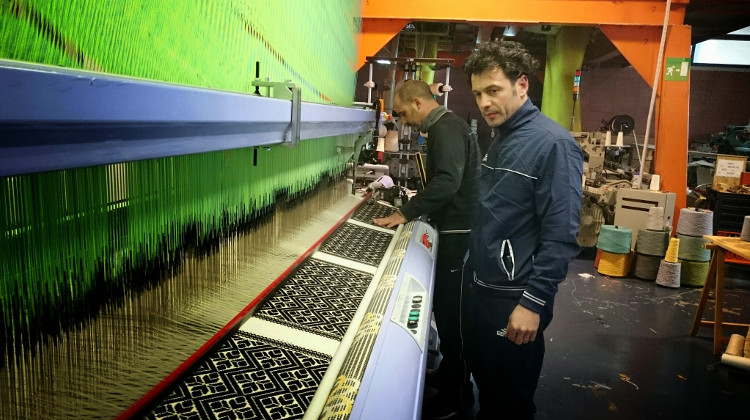 | | | |
| --- | --- | --- |
| | | |
| Gian Bachisio is checking the fabric for errors. | | Finding the weaves, which work well with the chosen yarn counts and densities, requires some trial and errors on the loom. |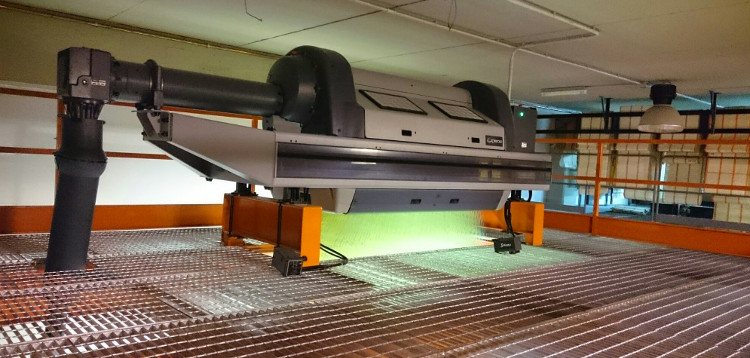 Proposte fair on April 27-29 2015 in Cernobbio, Villa Erba, near Como. But in order to see the Mariantonia Urru carpets, you will need to go to the nearby Villa Bernasconi, on the other side of Via Regina, where the Carpet show 2015 will take place. Opening hours and and ticket are the same as for Proposte.
How to earn 200€ with ArahPaint?
Details
It sounds like a scam, but we are serious. ArahPaint is a free drawing program for textile design, and you can actually make money with it. We will show you an interesting way to do it.
If you watch TV at wee hours, you may be familiar with various forms of advertising, where a salesman screams and tries to sell you this or that. The more interesting way to extract money from you is a gambling game, disguised as a puzzle.
In this instance, a lady with an annoying voice will go on screaming forever, telling you to call the number on the screen, and find the difference between the two pictures. If you are the first to call, and spot the difference, you win 200€. Of course, the game organizer will earn thousands of Euros in exuberant phone charges from all the people waiting on the line. But that is besides the point. We need to find the difference between top and bottom picture, and it is not that easy! It is just as frustrating as the screaming lady.
But, lo and behold, we can use ArahPaint! First, pull out your smartphone and make a screenshot. Transfer the picture to your computer and load it in ArahPaint. Select the two banknotes and use "Unskew" function to straighten it. You will get this: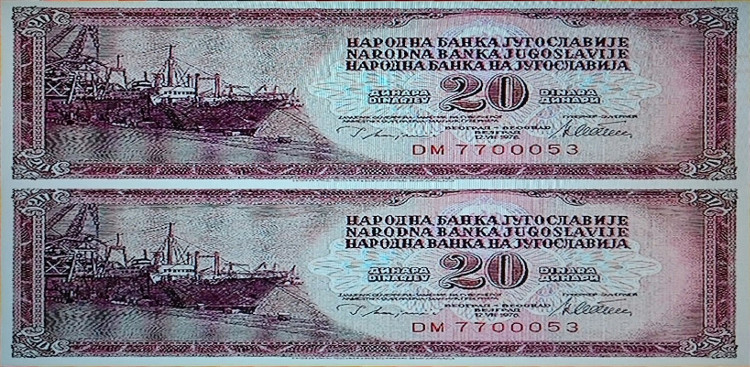 Finally, select the top banknote, and move it over the bottom one. You can use arrow keys for pixel perfect alignment. ArahPaint has special tools for display and pasting of selections, where selection can be shown in transparent mode, added or subtracted from the background picture. We will use the subtract mode to find the difference between the images.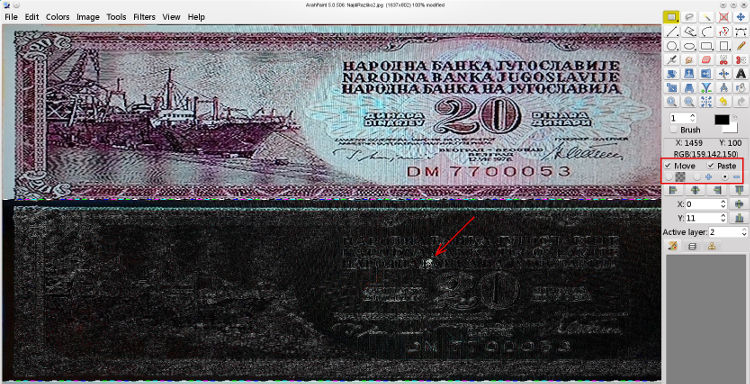 See the white speck marked by the arrow? This is the position of the difference. Of course, the difference is between Cyrillic Б and Latin B in the Bank. Top one is correct, and bottom one is the forgery, as NARODNA BANKA JUGOSLAVIJE must be written in all Cyrillic letters in Macedonian language НАРОДНА БАНКА НА ЈУГОСЛАВИЈА.
Now you can call the phone number on the screen and claim your prize.
On the more serious side, finding differences between images can be useful in textile CAD – sometimes you have different versions of jacquard card file, and you can't find the difference, so you are unsure which to use or delete. Now you can see if they are equal, or if not, where lies the difference.
How to spot a genuine newcomer in politics?
Details
In turbulent times, people get tired of established parties and prefer "new faces".
But how can you know, if the new candidate is really new? We can use our knowledge of textiles and mathematics.
If a candidate wears stripes on TV, he or she will look horrible due to Moiré patterns, interference of fabric stripes and raster resolution of the camera. You can enjoy it in full motion on this youtube video.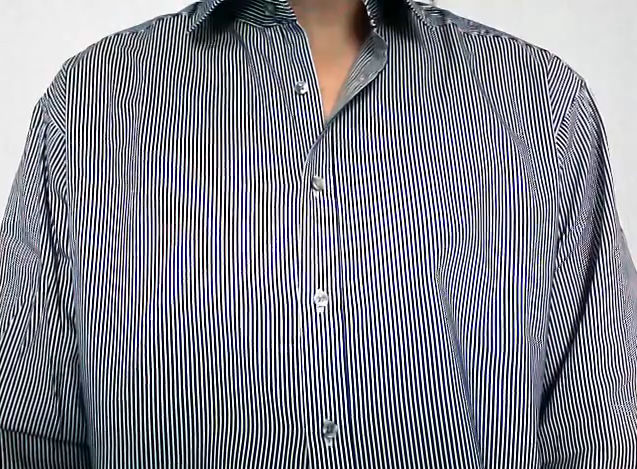 In textile CAD system, we have to work hard to avoid Moiré patterns. Threads of various colors, weaves and designs will always form stripes, which interfere with the pixel resolution of the screen or printer. On top of that, we wish to zoom in and out of the fabric, to get overview of the whole design. In same cases Moiré patterns are unavoidable. But in other cases, they can be avoided. In the latest version of ArahWeave, CAD for textile design, we have studied many advanced mathematical approaches to solve this problem:
We have greatly improved over our previous results.
On the left, you see a tapestry weave colored in yarn colors, and on the right, you see just the black and white weave card (black – warp up, white – weft up). Tapestry weave is very big, 11492x4662, and we wish to make a precise and accurate fabric simulation, zoomed out 16 times.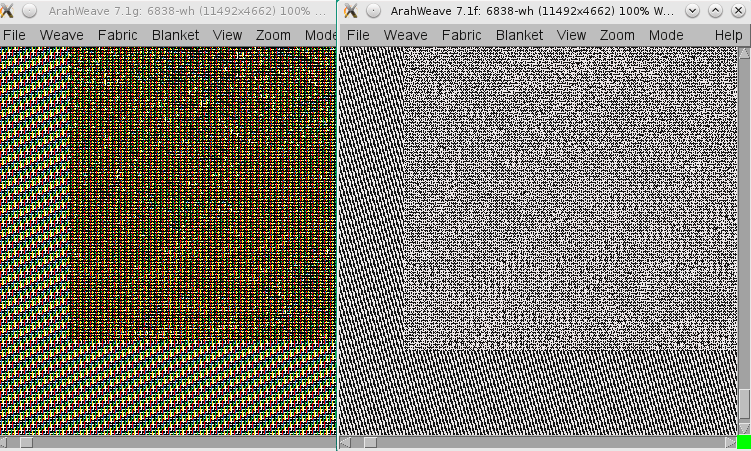 On the left, you have our previous simulation, full of unwanted Moiré patterns, and on the right, the new one.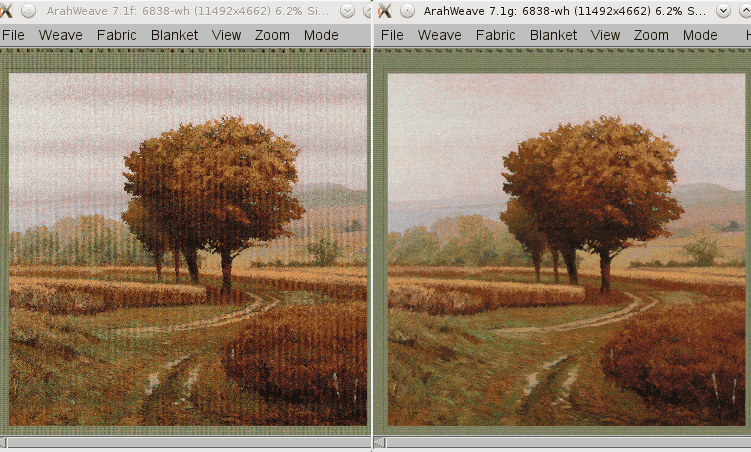 Fabric courtesy of Pure Country Weavers.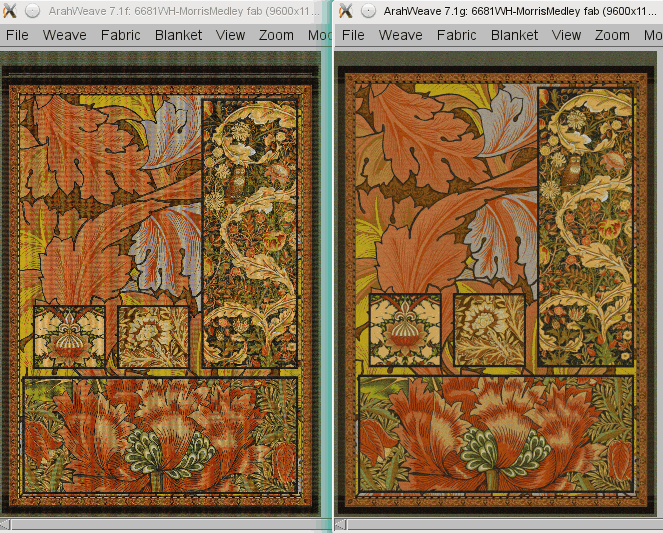 Fabric courtesy of Pure Country Weavers.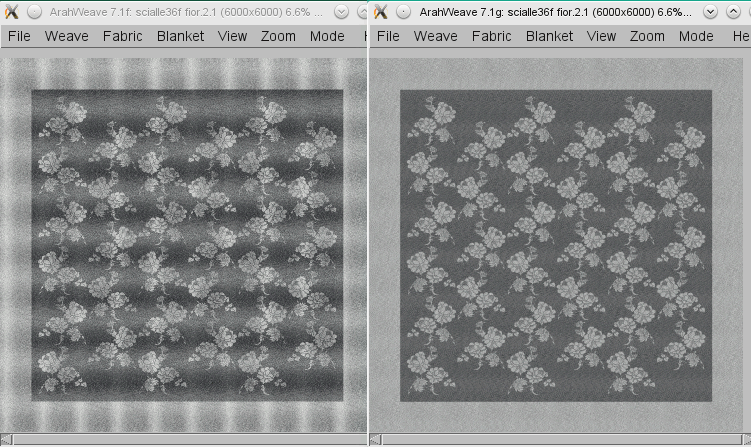 Fabric courtesy of Tessilbiella.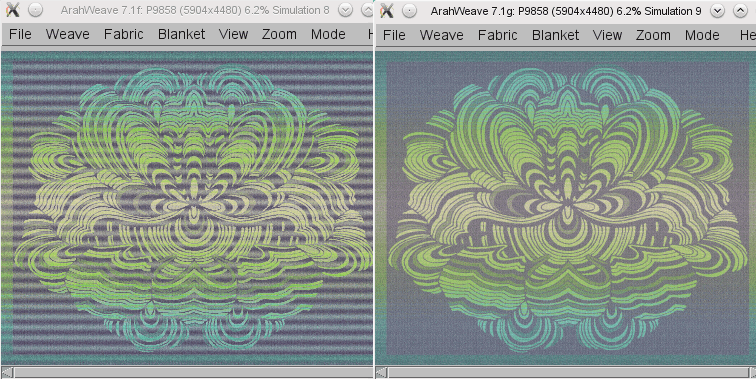 Fabric courtesy of Danzo.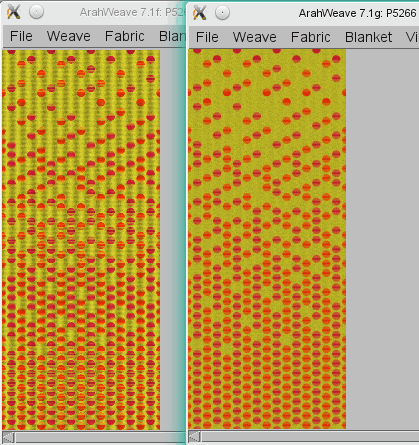 Fabric courtesy of Danzo.
Now we can use ArahWeave to generate very accurate fabric simulations for use in catalogs or e-commerce web sites, based on production data (jacquard card file), not on product photos.
How can we apply our expertise in Moiré patterns on politics?
If your preferred political candidate appears perfect, speaks smoothly, just what you want to hear, and never wears stripes for TV confrontation, don't trust that person. He or she has been planted by the "old forces", trained by spin doctors and fashion advisers. They will show their true colors, once elected.
New ArahDrape manual
Details
We have completely rewritten the ArahDrape user's manual. Previously, we only had a tutorial and videos, but now we explain all the advanced features, including handling of transparency and batch export of draped images. If you need to show your product in different fabrics and colors, then you need ArahDrape.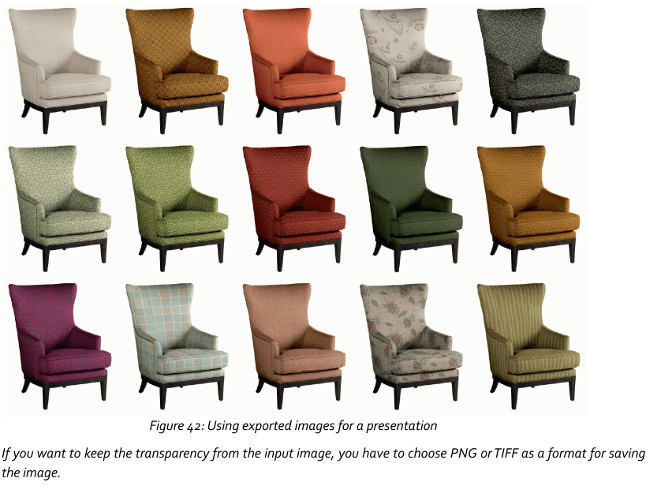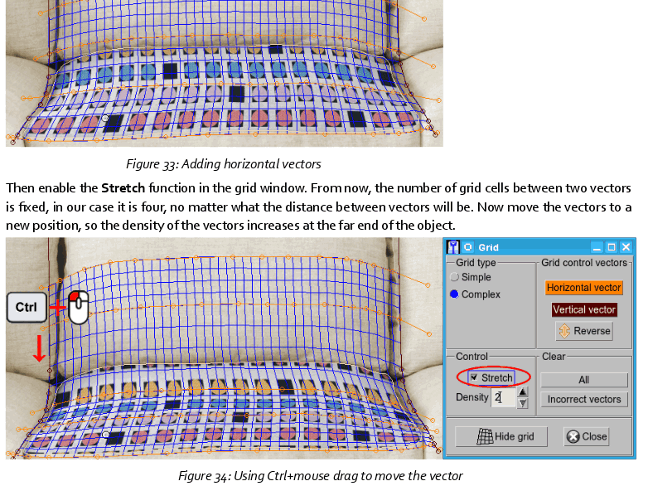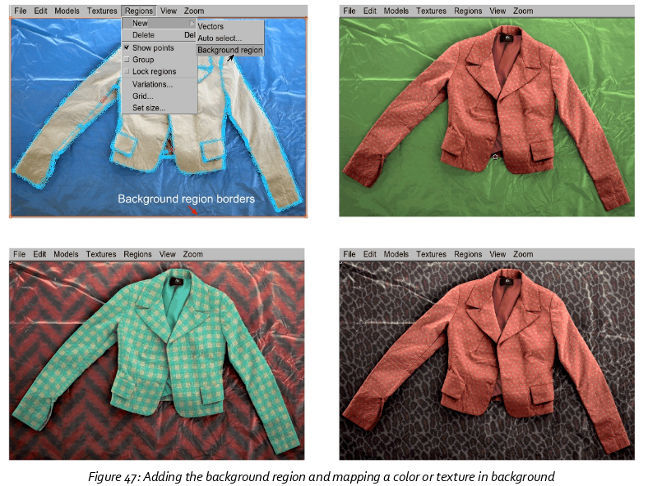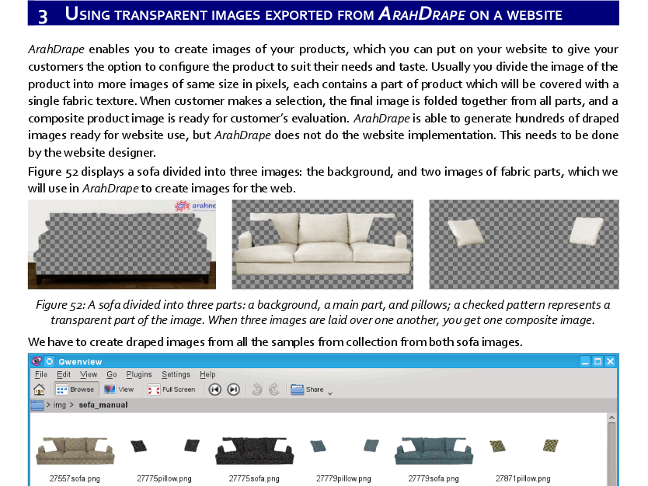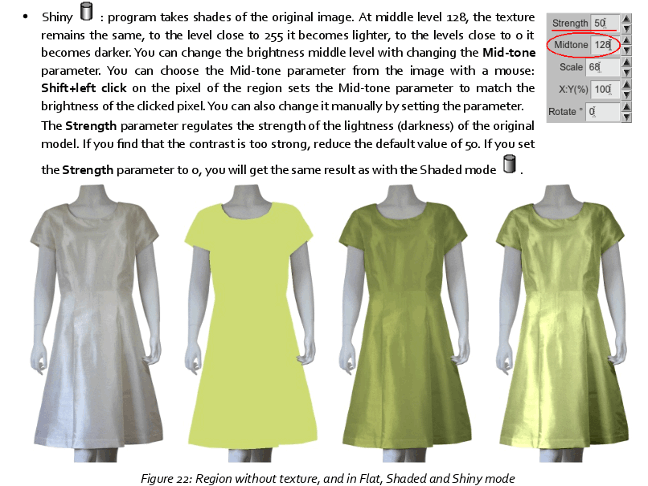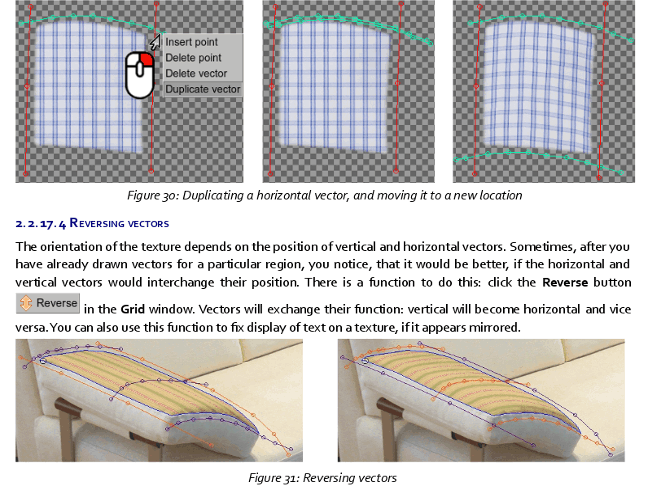 Video: Importing Vector Drawing into ArahPaint 5
Details
The video shows the importing of vector file into ArahPaint 5, reducing the number of colors, and applying the "Smooth shrink" function which also reduces or even eliminates the intermediate pixels on the border between two colors.

ArahPaint is freely available for Windows, Mac OS X and Linux.
Thanks to Martina Stadler of Pattern Design gmbh for providing us the SVG design for this tutorial. Pattern design provides the fastest way to buy high-quality vector repeat patterns for fashion textiles, home textiles, stationery or graphic designs.