Goodbye Ottavio Missoni, thank you for all the patterns
Details
| | | | | |
| --- | --- | --- | --- | --- |
| | | | Filters > Noise > Vertical | |
| | | | Filters > Wave > Horizontal | |
| | | | Filters > Zigzag > Vertical | |
| | | | | |
| | | | | |
| | | | | |
| | | | | |
As you may know, famous Italian knitwear designer Ottavio Missoni has passed away yesterday. Although his work started in knits, and we are in wovens, his eye catching joyful designs are instantly recognizable, much like a style of a modern artist. We feel connected to him in several ways. Firstly he was born in Dubrovnik, or Ragusa, as he liked to call it with Italian name. After second world war, when Italy lost the war and territories, he moved to Varese, small town north of Milan. It is from there where he started his business empire with his wife Rosita Jelmini. For success, and he had lots of it, you need both creative genius, hard work, and favorable economic climate. He was lucky to have all these in place. Ljubljana, the home town of Arahne, is located roughly halfway between Dubrovnik and Milano, and just like Missoni, Arahne found its first successes in the northern Italy. If you use ArahPaint, you probably know that we have several filter functions, which allow you quick creation of Missoni - like patterns.
Thank you for the inspiration, Ottavio Missoni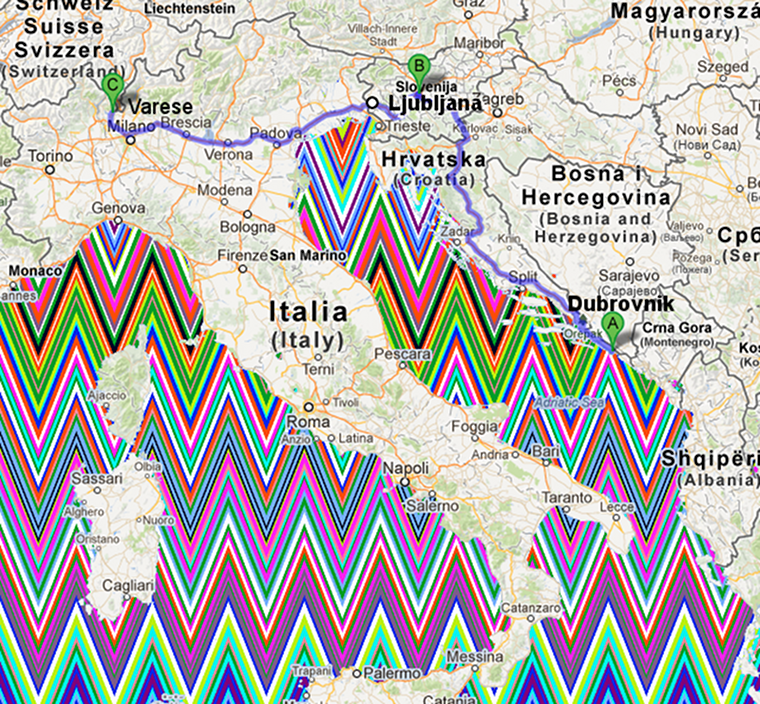 Arahne software on Windows using VMware
Details
Many Windows users would like to try the demo of Arahne software which natively runs on Linux, but don't want to install Linux.
There is an easy way for you to run Arahne DEMO software on Windows.
We have prepared a virtual machine (VMware) with Linux and Arahne DEMO software inside. With virtual machine you can run whole Linux inside a window in Windows.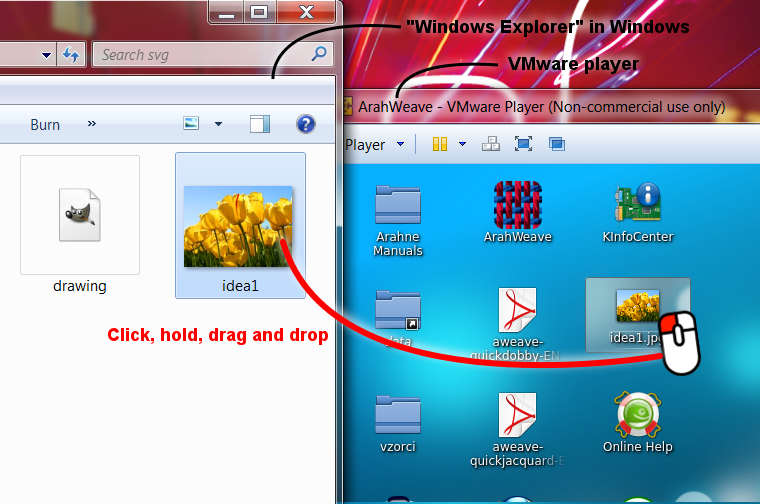 The virtual machine with Arahne DEMO software is ready for download from Arahne web site – Arahne DEMO software.
You will also find installation instructions and a quick tutorial on How to use VmWare.
ArahPaint5 for Windows available for download
Details
We are pleased to announce the availability of ArahPaint5 for Windows. If you are an Arahne's jacquard customer, you probably know ArahPaint. Linux customers are using ArahPaint4.1, it is an older version based on Qt 3.4. We have now ported the program to new version of Qt 4.8, which enabled us to port the program to Windows and Mac OSX, and add some new features.

New features include:
- display of freehand mouse pen preview in actual pixel size
- total redesign of image resize window; easy conversion from size in pixels, percentage, density in threads or dpi
- ability to import PDF, Postscript and SVG vector images
- flexible guide indicators, double click on ruler to set them
- loading of colormap from image, for easy conversion from one colormap to another.
- ability to keep unused colors in colormap, for customers who use fixed colormaps for all their images for technical reasons. Toggle "Colors > Keep colormap from image", in order to use that.
- new gradient filter
- PDF manuals available from help menu
- since ArahPaint5 on Windows must work without ArahWeave, it is able to save setup, change language or default directory.

ArahPaint can load 49 image formats (PNG, TIFF, JPG, BMP, GIF), jacquard formats (Staubli, Bonas, Grosse, AVL ...), dobby formts (WIF, Somet, Vamatex, Sulzer, Staubli, Dornier, SmitTextile, ...) as well as some custom image formats from competition (old EAT, old Nedgraphics, Colorado, IAM, Sophis, ...).
ArahPaint5 for windows can only save images in PNG, GIF or JPEG format, TIFF and BMP will be added later.
You can download it from here.

ArahPaint is free, feel free to copy it or recommend it to friends.

Why is it free? Well, it was free from version 3.0 back in the year 2000, just that up to now it was for Linux only, so it was not as popular as it should have been. Now Staubli has sponsored porting of ArahPaint to Windows, since they plan to use it with their carpet looms. We hope that ArahPaint5 on Windows and Mac OSX will become popular among weavers, they will be more aware of Arahne's software and will want to try (and buy) ArahWeave, which runs only on Linux.
This is the fist public release, so it is considered beta quality.
Please report any bugs or problems to This email address is being protected from spambots. You need JavaScript enabled to view it.
Say goodbye to floppies
Details

Do you remember paper cards for jacquard, and the revolution of first electronic jacquard, which supported floppies? That was over 20 years ago, most large mills now use network to transfer designs, while some smaller ones are stuck with once cute 3,5'' floppies.
This is a big problem for Stäubli JC4 controllers, where it is virtually impossible to get a network card, while new computers do not have internal floppies. What used to be a nice solution, is slowly turning into a nightmare. External USB floppy is difficult to set up, and for some non-DOS formats, like Stäubli JC4, special tricks are needed to write such floppies.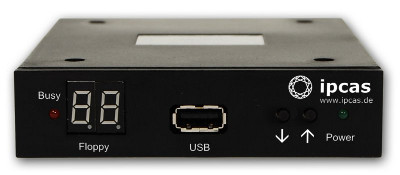 There is a solution now. A floppy emulator is available on the market. You insert it in your jacquard controller, in place of floppy drive. No other changes are necessary on the controller, as controller will "think" it is still using the floppy, but it will actually read USB memory key. The USB key needs to be formatted in a special way, and CAD software needs to write it in correct format. Arahne has solved this problem, and in ArahWeave 6.1j you will find "Floppy emulator" as one of the write destinations in "Save cards for production".
You can buy floppy emulator from Stäubli or from other companies.