Grassi pioneers header and footer on every roll of fabric
Details
Tessitura Fratelli Grassi from Vertova, north of Bergamo, Italy, is an innovative family run contract weaving mill.

The huge variety of the fabrics they weave, sparkled an idea in the young son of the third generation weaver, Diego Grassi. Instead of pasting or drawing labels to the roll (piece), why not weave it as initial and final part of the jacquard fabric. Such woven label will not peel off, and no material is lost, since initial and ending part of the fabric is ruined in the finishing, anyway.

Grassi's production is already fully integrated with ERP SpyderTex from Il Dato. ERP system sends XML requests to ArahWeave CAD server, which converts the fabric file to the appropriate loom file (Staubli JC4, JC5, Bonas).

Arahne has upgraded ArahWeave with capability to create text labels on the fly, and weave them as header and footer of every fabric order. Operator on the ERP can choose the text, size and weave for the label. Label ground continues from the main fabric, so that it does not create any problems in finishing.

Grassi's customers love this feature so much, that they contest the order, if the top woven label is missing. Never again will a weaver walk in the warehouse or finishing department, looking at the rolls of fabric, and not know immediately who ordered them. We accomplished this only with creative use of existing technology (Jacquard, Arahne CAD), no investment in hardware was necessary.

New agent in USA
Details
Arahne has appointed Marc Rosseel, Marc Rosseel Textile Design & Product Development, representative for the U.S. and Canada market. AVL Looms will continue to handle hand-weaving market.
Marc, is an independent textile design and product development professional and a long-term Arahne customer. He has 20 plus years of experience in textile CAD design and the development of a broad range of textile fabrics and products from tapestry wall-hangings, textured throws, blankets, pillows to custom upholstery fabrics and home furnishings. In the past he has worked with the no longer in operation textile CAD company Sophis Systems, where he had a pivotal role in establishing its US operations, Sophis USA. His expertise includes textile and product design, innovative fabric constructions, complex weave structures, CAD/CAM software and implementation.
We are very happy to have him on board.
Marc Rosseel contact information:
Marc Rosseel - Textile Design & Product Development
16028 Cranleigh Drive
Huntersville NC 28078
e-mail:This email address is being protected from spambots. You need JavaScript enabled to view it.';document.getElementById('cloak713a38ebd3aaf007c6ea9a691f06598e').innerHTML += ''+addy_text713a38ebd3aaf007c6ea9a691f06598e+'<\/a>';
Shiny new feature in ArahDrape 2.0d software
Details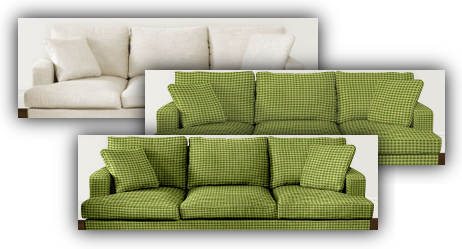 ArahDrape texture mapping program was always one of the most appreciated solutions amongst designers, upholsterers, tailors, dressmakers and establishments without their own production.
To make a presentation of a fabric on final product, without sample weaving and without sewing a prototype is a great way of reducing costs. Furthermore, it is also a marketing tool for presenting company's collection or help clients decide which fabric they like.
We always strive to make the presentation the most realistic. Our goal is not to be able to distinguish between the original image and the texture mapped simulation.
The new feature works great with shiny surfaces and darker garments!
| | | |
| --- | --- | --- |
| Starting image | Without the new feature | With the new feature |
| | | |
Satin Textiles Co. has chosen Arahne
Details

We are pleased to announce that Satin Textiles Co., Ltd. from Bangkok, Thailand, has chosen Arahne for designing jacquard upholstery fabrics.
Satin Textiles, textile manufacturer of high quality jacquard upholstery and decorative home furnishing, has been engaged in the textile business since 1986. The owners of Pasaya brand export their fabrics to Europe, Australia, USA, Japan and the countries in Asia.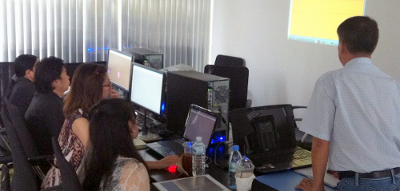 With design department and production in separate locations, Satin Textiles needed a flexible software with realistic fabric simulation to manage the collection development.
Arahne's constant improvement, development of custom functions and excellent support will help increase Satin Textile's competitiveness and the capacity to deliver high quality, innovative products.
Arahne is celebrating its 20th Anniversary
Details

This summer Arahne celebrates two decades of progress, development and service to textile industry.


 

LJUBLJANA, SLOVENIA, July 25th, 2012. In the summer 1992 two engineers have decided to build a powerful tool that would help textile professionals in performing their work.

"I was fed up with the bureaucracy in universities and government research institutes, I wanted to develop something really useful." said one of the founders Mr. Dušan Peterc, who is still one of the leading developers on the products. His devotion to the textile industry has lead to the development of three Arahne products that cover different work processes in textile industry. ArahPaint enables designers to create seamless repeat patterns. ArahWeave covers all techniques in dobby and jacquard weaving; its advanced features result in accurate technical calculations and astonishing fabric simulations. Whereas ArahDrape helps designers, manufacturers and retailers in presenting their fabrics on various objects.

Arahne has expaned its market all over the globe. After 20 years customers all over the world continue to choose Arahne because of the fast response, willingness to meet their needs and high quality support. According to Carlo Antonio Danzo, the owner of Tessitura val d'Agno and Manifattura Fossa "Arahne developers do not stop at the superficiality of things, but want to learn the essence". Arahne continues its developments and will most likely became one of the most influential companies in the field of weaving software. As the cofounder Simon Weilguny, now Head of software department in Koper Bank says "Arahne has a technology aware, customer focused manager with positive influence on his coworkers, who is able to manage a R&D company in a very turbulent market".