Manuals in Thai language
Details
Thank to Arahne's agent in Thailand, Mr. Vichai Tantikunakonrat from AW Tex Ltd.,
User's Manuals for ArahWeave, ArahPaint and ArahDrape are now available also in Thai language.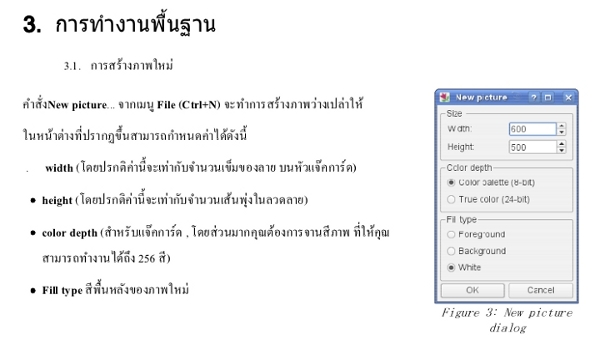 New ArahPaint 4.1h available for download
Details
Try out new features, developed specially for professional textile designers.
New function for smoothly enlarging images. Comes very handy when working with pictures downloaded from the web.

| | |
| --- | --- |
| Normal multiply | Smooth multiply |
The algorithm is specially developed so that it not only increases image size, but also smooths the resulting image, without damaging angles and straight lines.
Added functions to smoothly shrink the image.

| | |
| --- | --- |
| Normal shrink | Smooth shrink |
The algorithm is specially developed so that it eliminates intermediate colors on borders. It also creates less aliasing noise.
A function specially developed for making borders is called Duplicate with mirror – 1. It mirrors your image without repeating the central point.

| | |
| --- | --- |
| Duplicate Mirror | Duplicate Mirror - 1 |
The "Add contour" function has new features. With entering value higher than 1 and unselecting the repeat operation toggle button, you get new options like gradient, angle and shading.
The Averaging function now supports thickness parameter in the true color mode.

In this picture we had to convert the image from 8 to 24 bit in the Colors menu, before averaging!
Added functions to multiply image from 2 to 10 times horizontally and vertically.
Added functions Shrink X and Y scales your images to half of it's size without the need to calculate.
You can download your ArahPaint with the ArahWeave DEMO version...

Young talent designing with Arahne
Details
A fashion show "The Light" took place in Ljubljana, the capital of Slovenia and home of Arahne, where young designers from University of Ljubljana presented their work.

 

The rewarded collection was designed by Anđela Lukanovič with Arahne software.

 

Keywords of Anđela's collection:
red district / neon lights / darkness / womans body as an object / Nietzche: »Women are less than shallow« / underwear as upper garment / turning of forms positive-negative / emphasizing vertical orientation
Imagine the Red light district – women, neon signs, windows with hazy light. The atmosphere is gloomy; this is where a woman is transformed from a conscious being to a mere object for pleasure. The form of garments derive from underwear and typical peaces of wardrobe, with adding or removing layers. Jacquard fabrics, designed with ArahWeave, replicate the underwear's details by incorporating them into fabric's basic construction. The gloomy atmosphere is emphasized with striking screen prints of blurred neon lights.



New ArahWeave 6.0a available
Details
We have prepared the new version of ArahWeave. Improved functions and new features will streamline designers' work.
Added support for compressed Staubli .ZC5 files for browsing, compressed .QTZ files and printing to Epson Stylus Photo T60.

Texture color matching between ArahWeave and ArahDrape is now synchronized also in printing.

New function for regaining computer hard disc space. On your request it automatically converts your image files from TIFF, BMP, PCX and GIF into PNG. After applying this function, images will load faster and take up less space on your disk and Dropbox.

New easy interactive language and font setup. Change font with interactive font selection preview or change language without closing the program. If current font is not able to show the chosen language, click OK and program will automatically select the right font, and restart itself.

This especially helpful for the Chinese and Thai language.