New PANTONE® color libraries
Details

Last Updated: 20 September 2012
Created: 24 June 2011
Arahne software is a licensed PANTONE® user for more than a decade. Our clients enjoy the advantage of having an accurate method of selection, specification, communication and reproduction of colors. In addition to the PANTONE® FASHION + HOME, which has became an industry standard, we have now added three more PANTONE® libraries: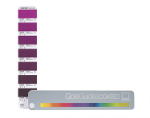 Solid Coated PLUS SERIES
Solid Uncoated PLUS SERIES
GoeGuideTM COATED
The new libraries are used mostly in the graphics industry, and having them in the textile CAD system is handy, when your customer does not know the right PANTONE®.